About The Film
A film by Michèle Midori Fillion
Before World War II,
war reporting was considered NO JOB FOR A WOMAN. But when American female reporters fought and won access to cover the war, there was another battle to fight: Women would be banned from the frontlines, prevented from covering Front Page stories, and assigned "woman's angle" stories. Instead, they turned their second-class assignment into a new kind of war story: one that was more intimate yet more revealing.
"No Job For a Woman": The Women Who Fought to Report WWII tells this story through the lives and work of wire service reporter Ruth Cowan, magazine reporter Martha Gellhorn, and war photographer Dickey Chapelle.
To bring the story to life, director Michele Midori Fillion combines rarely seen archival footage and stills, actors reading the written words of the three main characters and interviews with contemporary female war reporters.
The film and its companion website is a production of Hurry Up Sister Productions. Narrated by Julianna Margulies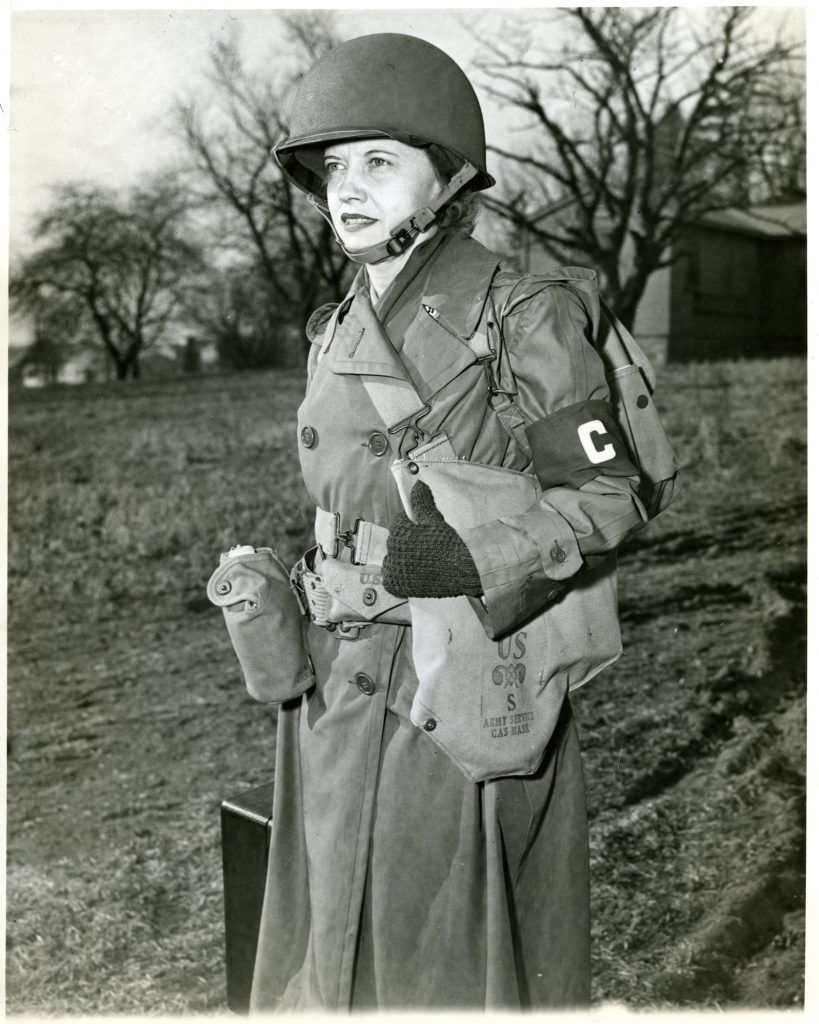 Awards
National Endowment for the Humanities (NEH) production grant, 2008; three previous grants for research and development and a "We the People" designation by the NEH because the project explores "significant events and themes in our nation's history and culture"
John F. Kennedy Presidential Library Foundation Grant, 2008
New York State Council for the Arts, 2009
Lucius and Eva Eastman Fund, 2009
Individual donors, 2009–2010
Educational Foundation of America Grant, 2010
4th International Hemingway Conference, Lausanne, Switzerland; Director Michele Midori Fillion invited to present film clips at conference, 2010
Private preview screening at the Intrepid Air and Space Museum, New York City, March 9, 2011
World Premiere at the 2011 Sarasota Film Festival, Through Women's Eyes International
Festivals
2011 World Premiere – Official Selection — Sarasota Film Festival, Sarasota, FL
2012 Vancouver International Film Festival, BC, Canada – Canadian Premiere
Flying Broom International Women's Film Festival, Turkey
2013 Audience Choice Award – Festival International du Film Lesbien et Feministe de Paris, France
Filmor International Women's Film Festival, Turkey
Powell River Film Festival, BC, Canada
ReFRame Film Festival, ON, Canada
Yerevan International Film Festival, Armenia
2014 17e Printemps Lesbien de Toulouse, France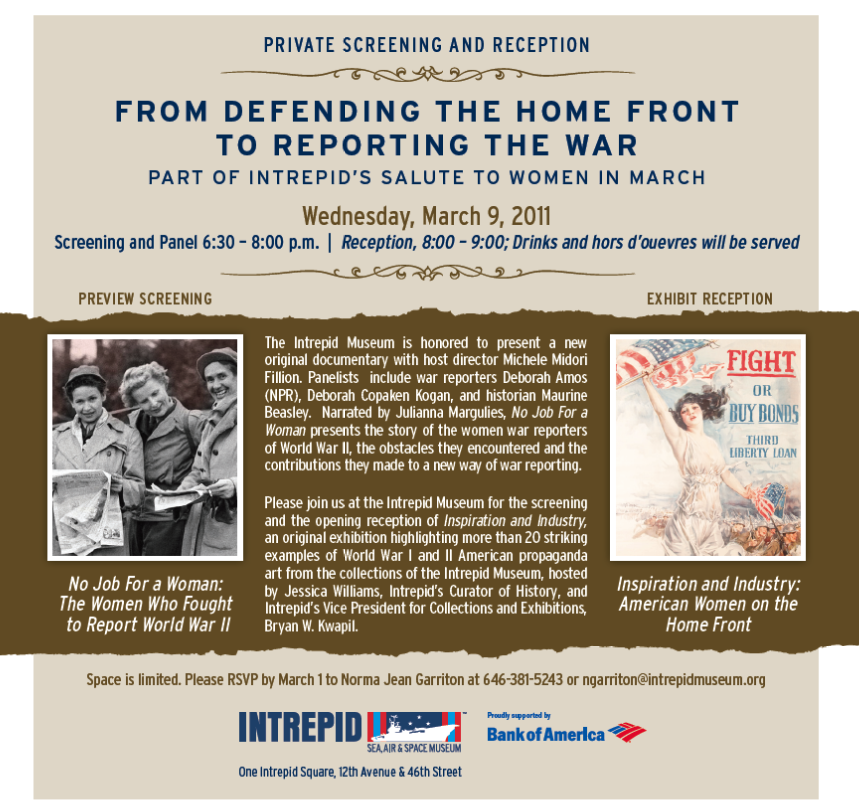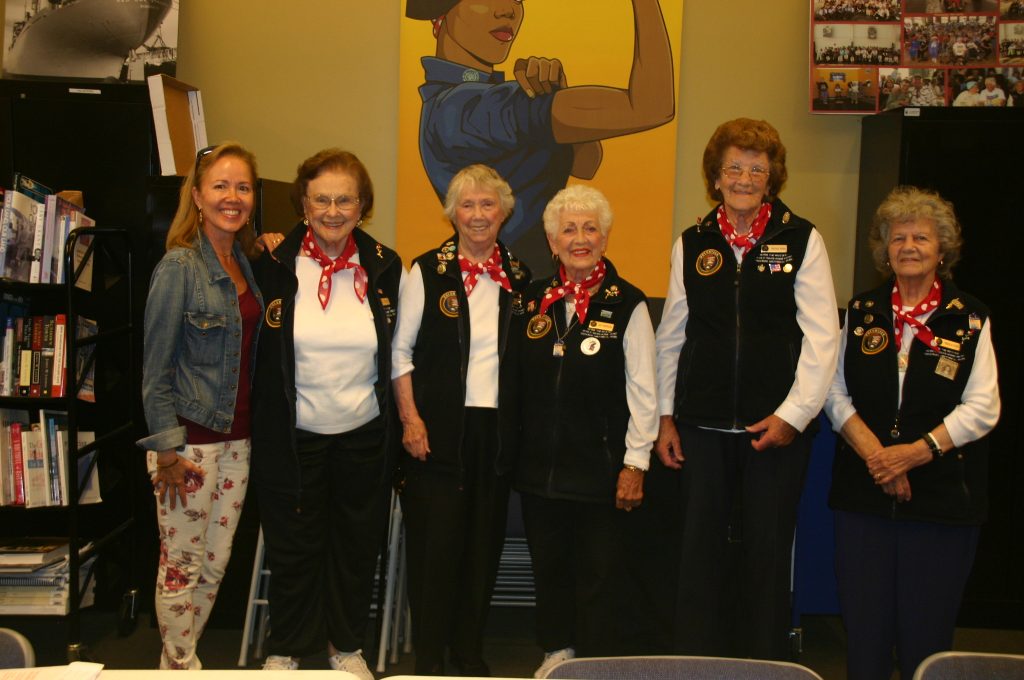 Special Screenings:
2011 Intrepid Screening, NY
On March 9, 2011, the Intrepid Sea Air and Space Museum hosted a private preview screening of "No Job For a Woman" The Women Who Fought to Report WWII as part of the Intrepid's Salute to Women programming for Women's History Month.
The film was introduced by the Intrepid's president Susan Marenoff-Zausner. Formerly a WWII aircraft carrier, the Intrepid is now a museum and the perfect venue to screen "No Job For a Woman."
Below is a section of the panel discussion that followed the screening with journalism historian Maurine Beasley, NPR reporter Deborah Amos and war photographer Deborah Copaken Kogan and moderated by the film's director Michele Midori Fillion.
Newswoman's Club of New York
Vet's Fest, NY
2012 History Makers International, NY – Nominee for Best Use of Archives in a History Production
Far Out East Cinema, Moncton NB, Canada
2013 NEH NYU, Washington, DC
The screening was followed by a panel moderated by broadcast journalist Soledad O'Brien, and featured panelists Director Michele Midori Fillion, William & Mary History Scholar Leisa Meyer, US Navy Vice Admiral Ann E. Rondeau, 1st Lt, Army National Guard Kristen L. Rouse, Former Thomson Reuters Journalist Missy Ryan.
2014 Rosie the Riveter WWII Home Front National Historical Park, Richmond, CA
"No Job For a Woman" screened at the Rosie the Riveter Trust July 25th, 2014. The screening went exceptionally well, but the best part about it was meeting the "Rosie's" beforehand. The "Rosie's"? Yes, women who worked in the Richmond, California shipyard, now home to the Rosie the Riveter Trust. On Friday's, the "Rosie's" work at the site answering questions about their experiences working at the shipyard during WWII. They are tremendously helpful, energetic and engaged. What a pleasure and honour to meet them.
Hong Kong Foreign Correspondent's Club, Hong Kong
2017 Zonta Club Denver, Denver, CO
The Zonta Club of Denver is a member of Zonta International, a global organization of business and professional women focused on empowering women domestically and internationally through service, advocacy, and fundraising. 

Buy or Rent the Film
Women reporters during WWII were told war reporting was No Job For a Woman. Buy the DVD, available for purchase from Women Make Movies, to find out how these women over came the restrictions and created a new way of telling the story of war.
2011, 61 minutes, Color, DVD, English