Helen Kirkpatrick's career illustrates how a smart, refined intellectual, effectively a "Literary Lady", becomes a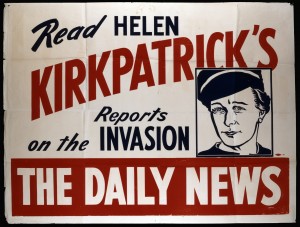 crusader in print and achieves spectacular professional success and respect.
She began as a researcher, then co-founded the Whitehall News of London, an influential newsletter because she believed the threat of Nazism was not being adequately or seriously covered.
She authored two widely influential books on foreign policy – This Terrible Peace (1938) and Under the British Umbrella: What the English Are and How They Go To War (1939). And in 1939 she became London Bureau Chief for the Chicago Daily News, taking the position by default since her male counterparts had gone to the front.
Later in the war, she was the subject of a top-level meeting in which her request to cover the war zone from the front lines was debated. The source of contention:  latrines.  The argument ended when one officer wagered: "Helen Kirkpatrick could dig a latrine faster than anyone in this room. " There were no takers.
By the end of the war she had covered more than one front:  Italy, France, North Africa, and Germany. As well, she was on the committee to decide which reporters would cover the D-Day landings in Normandy.
Her frontline reports of the bombing of Dover and the London Blitz, as well as her low-pitched decisive voice, so impressed Edward R. Murrow that he attempted to hire her for Columbia Broadcasting System (CBS). CBS told him that they already had Mary Marvin Breckinridge, and one woman on-air was enough.