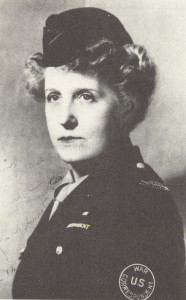 Widely viewed as the equal of her male colleagues William Shirer and Edward R. Murrow, Schultz was American born, European educated, and Berlin bureau chief for the Chicago Tribune from 1926 and broadcaster for the Mutual Broadcasting Network for which she broke the news of the Hitler-Stalin pact.
Schultz was extraordinary by any standard, especially the one applied to women. Sorbonne educated, a graduate of international law, she was fluent in five languages, ambitious, smart, and an adherent to the European tradition of social beauties – she dressed very well.
When she recognized the Nazi party could no longer be ignored, she calculatedly sought the acquaintance of Nazi Captain Hermann Goering and others.  A gourmet chef, she entertained them with dinner parties, culling information which she then reported in a column written under the pen name John Dickson. Goering soon realized Schultz was playing a double game and attempted to entrap and arrest her. He called her the "Dragon Lady of Chicago"; her colleagues called her "Adolf Hitler's greatest enemy."
Her columns warned of concentration camps, the Nazi takeover of government, factories, businesses and labor unions, and the hundreds of anti-Semitic laws being passed. But Chicago Tribune publisher and vocal isolationist Colonel Robert R. McCormick censored many of her stories. Indeed, her biggest career scoop —  the non-aggression treaty between Nazi Germany and the Soviet Union — which she predicted as early as April, she announced by radio on the Mutual Broadcasting System on August 24, 1939 while, the Tribune reported the treaty using Associated Press copy.